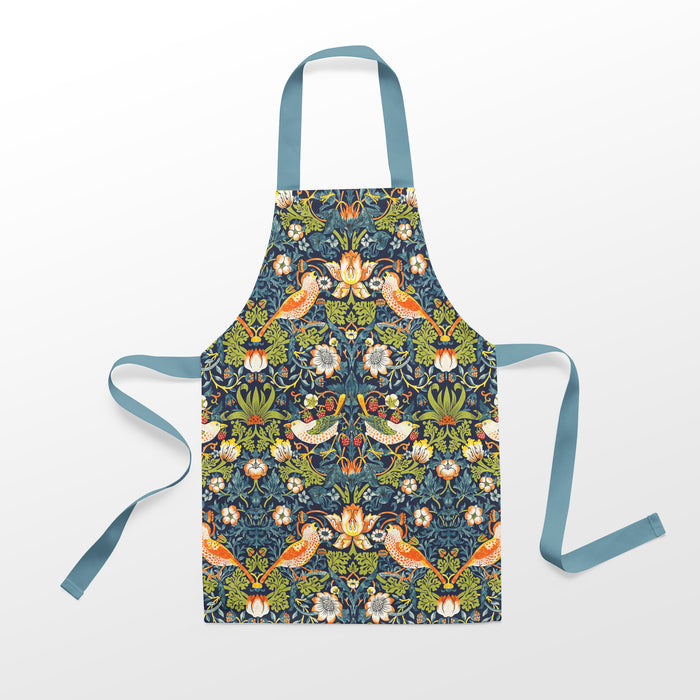 Wholesale Custom Aprons - Design and Sell Bulk Aprons - 100% Cotton
★ The minimum order quantity is 10 pcs per design. Aprons are included in the pricing. 
★ Production time is 3-5 weeks.
★ Available apron sizes are 27"x 33.5" (Adult) and 15"x 18.5" (Kids)
★ Adjustable neck strap can be added per request. 
★ 100% cotton premium quality twill fabric
★ Straps can be done with the color your want.
★ Printing method: Direct to Garment Printing
★ We can print your design/artwork/logo on all over the apron. The recommended file specifications:
Adult: 29" W x 35.5" H, 300 dpi resolution, PDF or PNG
Kids: 17" W x 20.5" H, 300 dpi resolution, PDF or PNG
★ After placing your order, please e-mail us your artwork/logo. The bigger the file is the better the print quality. 
★ Unlimited colors can be used for a single design.
★ We create a virtual sample for your approval.
★ There will be no extra setup and any other hidden fees.
★  Ordering sample is strongly recommended if you're concerned about the colors. There is no 100% color match in direct to printing (DTG) method.  
At Mary's Kitchen, we offer custom aprons that can be printed with your designs. These utility garments are made of twill, a classic material that's suitable for heavy-duty use in the kitchen. To incorporate your designs, we use direct-to-garment (DTG) printing, resulting in vibrant and long-lasting artwork. Order our wholesale aprons now to increase your inventory or expand your brand!
Made From High-Quality Twill Fabric
Twill is a plain-weave fabric that dates to ancient times. The yarns are packed very closely together, resulting in that strong, thick fabric many of us are familiar with. Using the material for aprons provides the following benefits and more!
Luxurious Material With a High Thread Count
Our aprons are made from premium-quality, 100% cotton twill fabric. It has a high thread count, which means that the fabric is opaque, thick, and durable. Wearers will also enjoy the added comfort and sophisticated look of the material.
Durable for Heavy-Duty Use
Twill is known for being durable and easy to maintain. You may not know it, but the material is often preferred by construction workers because of its durability. Those who like to work in the kitchen will also love the fabric's sturdiness and resistance to stains. Twill hides mess effectively, maintaining a pristine appearance even during the busiest days.
Easy To Clean and Hard To Wrinkle
Twill does not wrinkle easily. Often, a quick steam or a low tumble dry is enough to smooth any wrinkles on your custom aprons. Since our twill is 100% cotton, the fabric is easy to spot clean as well as machine-wash. Just use dry low tumble and cold water settings.
DTG Prints for Eye-Popping Designs
We've invested in DTG printers to deliver designs that are vibrant and long-lasting. DTG is ideal for designs with intricate details, which is hard to achieve in most standard printing methods. With DTG, you can add complex logos or fine text without having to worry about blurry outputs or lost details.
Aside from precision, DTG makes it easier to add unlimited colors for every design. Want a simple monochrome design with variations in value? What about an artwork with a broad range of tones? With DTG, all these are possible. Your vision won't be compromised by a limited color palette.
One final advantage of DTG is how soft the prints are. Ink won't set on top of the fabric, which results in cracks and a hard, uncomfortable surface. Instead, colors seep directly into the fabric, giving the technique its name. The result is a much better tactile experience and prints that resist fading and cracking.
Comes in Adult and Kid Sizes
Planning to dress your kids for an upcoming cooking class or party? Need to provide merchandise for your followers? We offer two sizing options, so you can provide custom aprons for everyone, regardless of their age.
Adult: 27″ W x 33.5″ H
Kids: 15″ W x 18.5″ H
10 pcs Minimum Order Quantity per Design
Not everyone needs customized aprons to stock inventory or spread awareness for their brands. Maybe you just need custom aprons to give your family a uniform during reunions or holidays. That's why we've made sure to have low order minimums. That way, you can begin ordering with a quantity that suits your needs.
Sample Prints Available
Are you curious to see how your designs translate to twill fabric and DTG printing? We accept sample printing orders to help you make more informed decisions. 
1 sample - $50.00
2 samples - $60.00
3 samples - $70.00
4 samples - $80.00
5 samples - $90.00
6 samples - $100.00