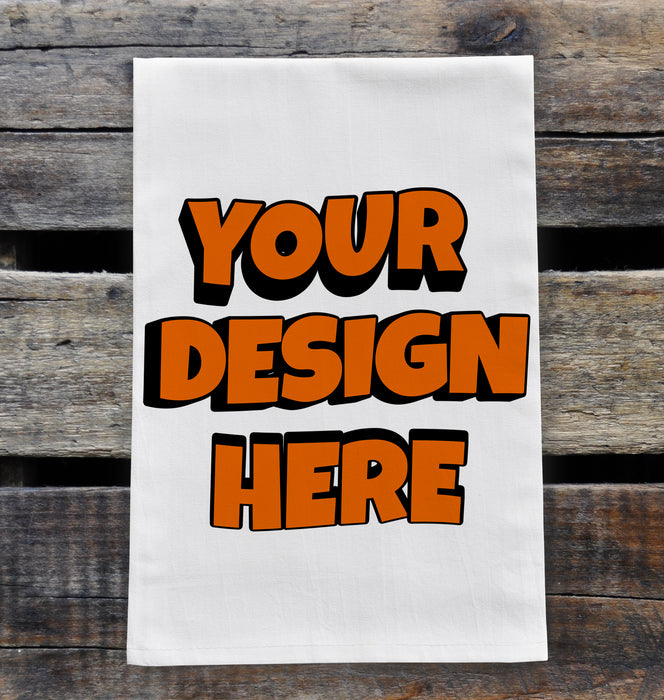 Tea Towel Printing, Screen Printed Flour Sack Towels Wholesale, Cheap Dish Towels Printing
★ RE-SELLERS/WHOLESALERS/DESIGNERS: Please contact us for our wholesale prices if your volume is more than 100 pcs.
★ Printing Method: Silk Screen Printing.
★ Minimum order quantity is 24. Towels are included in the pricing.
★ There will be no extra setup fee, screen fee, flash curing fee or any other hidden fees.
★ We can print your design/artwork/logo on literally any location you want. However, please keep in mind that the maximum imprint area is 12 x 13.5 inches. If you need larger or all over printing, please click here: 
★ Up to 4 different colors can be used for a single design. Please make sure to choose the correct number of the colors when you order. If you use the colors we have in stock there won't be any extra setup charge. However, if you want to use special or Pantone colors, there will be $50.00 extra charge per color. 
★ We create a virtual sample for your approval.
★ Production time is 2-3 weeks after placing the order.
★ You can always cancel your order and get a full refund before you approve the virtual sample. We are unable to accept returns, cancellations or exchanges on personalized products, once your virtual sample is approved. 
★ We will only take your "APPROVED" virtual sample as a reference and your final product will be same as shown on the virtual sample. 
Imprint Method: Silk Screen (This is the default imprint method. Other imprint methods may be available. Please call 909-923-0225 for details.)
Graphic Design: There is no charge for art modifications and we offer FREE Virtual Samples. Our skilled graphic design team can help put the finishing touches on your logo or artwork no matter what type of image you send us!
Sending Artwork: Artwork can be uploaded during ordering.
Prefered Image Format: EPS, .AI, .PDF, .PNG, JPG, JPEG
★ Over/Under Runs: We reserve the right to ship under or over by 3% and bill accordingly. In case of an under run of 3% or less, MKT reserves the right not to print the remaining balance.