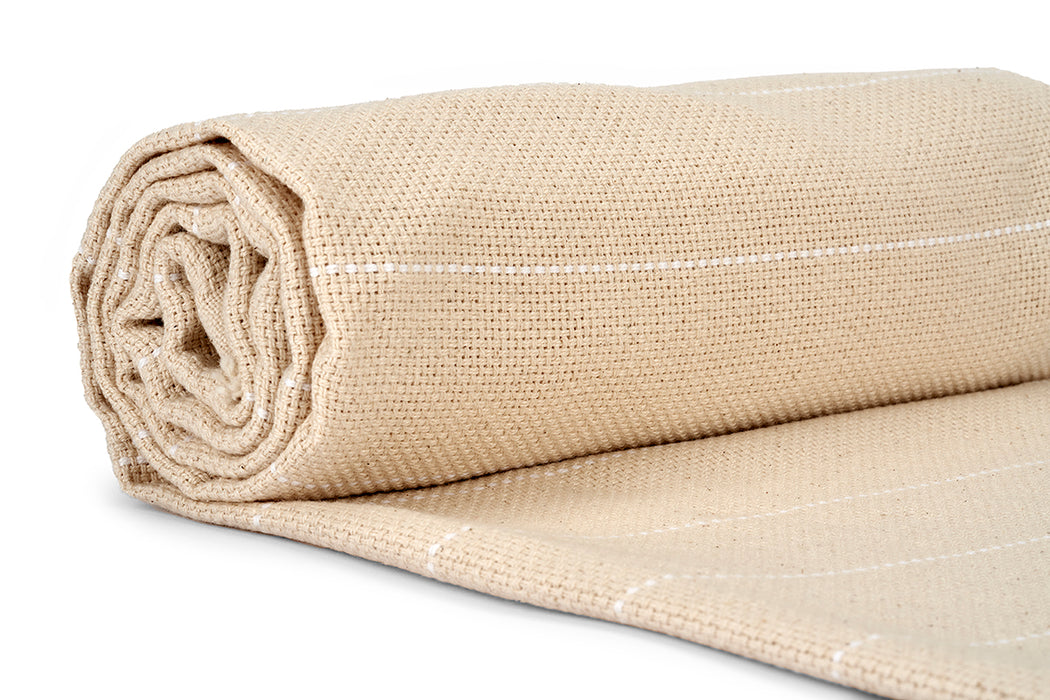 Monks Cloth, Punch Needle Fabric by the Yard, Large Overlocking Tufting Cloth with Marked Lines
★ 100% Cotton
★ 36" x 60" (1 Yard) 
★ High quality fabric
★ Best choice for punch needle
★ Tufting cloth
★ White marking reference lines: to guide you to avoid deviation when tufting and makes your hand-made projects easier.
Mary's Kitchen Towels carries monk's cloth fabric, the perfect canvas for an array of applications. This is a large overlocking tufting cloth with marked lines. You can use it for embroidery, needlework, and DIY cloth design. It comes in 36″ x 60″ (one yard) — enough room for your most ambitious projects. This is the versatile and high-quality material you need to create the most gorgeous and creative designs. Order a batch today!
Made From 100% Cotton
You may have been disappointed with the quality of more modern materials. They don't lend the same level of strength and elegance as the humble cotton. Thankfully, our monk's cloth is made from 100% pure cotton. We've sourced high-quality materials to achieve an authentic and comfortable material for your projects.
Cotton is known for its breathability. With this feature, our fabric can be used for DIY clothing, decorative pillowcases, and wearable art — not just display embroidery. The natural material also resists daily wear and tear, so your project will last longer and contribute less waste.
High-Quality Fabric That Lasts
Aside from using high-quality cotton, we leverage tried-and-tested manufacturing techniques to create sturdy monk's cloth. This results in strong weaves that can withstand punch needles, making our monk's cloth the ideal partner for punch needle designs.
With White Reference Lines
There's no need to worry about inaccuracy and botched designs. Our monk's cloth has clean reference lines to use as guides. In addition, they look nondescript. These lines will blend seamlessly with your designs for a cleaner look.
Neutral Beige for an Elegant Background
Our monk's cloth fabric comes in a timeless beige color. This desaturated color serves as the ideal base for your designs. Whether you're creating a Scandinavian pillowcase or intricate geometric shapes, the coloring won't be too intrusive or attention-catching.
Whipstitched for an Extra Elegant Appearance
The details are essential, especially if you're sending pillowcases or aprons to discerning customers. That's why even the edges of our monk's cloth have whipstitched ends. The finishing adds a touch of elegance. The work looks cleaner and feels as though more effort was put into the creation.
Another advantage of the whipstitched ends is added durability. The weave reinforces the fabric, so fraying won't be an issue. You can work on the fabric for as long as you need, and it won't unravel on the edges. Your customers will also enjoy the added structural integrity, adding to their satisfaction with your products.
Suitable for an Array of Applications
Our monk's cloth is the ideal foundation for creative designs. Since it is strong and can take on a beating, the material can be used for various needlework methods.
Punch Needle: Our monk's cloth has tight yet uniform weaves. Thanks to this structure, you can easily use punch needles for intricate and textured projects. The needle will glide smoothly and retract without snagging. Enjoy exploring pile heights without having to worry about your yarn from popping up.
Rug Punch: Rug punch works similarly to punch needle embroidery. The same benefits apply — sturdier substrate, resilient weaves, and added durability. The monk's cloth offers the best base for complex and ambitious designs.
Machine Embroidery: If you're not going the completely handmade route, our monk's cloth can still hold up to sewing machines. The material has smooth and consistent weaves, ensuring complete and easy control. You can be confident that the fabric will allow the sewing machine to produce the designs you're looking for.
DIY Cloth: From beautiful pillowcases to lovely aprons, the monk's cloth fabric can be used to create DIY apparel and furniture covers. The item is the perfect material for enthusiasts with lots of time for DIY projects. On the other hand, monk's cloth is manageable enough for beginners. It's adaptable and easy to handle, giving you more wiggle room for mistakes.