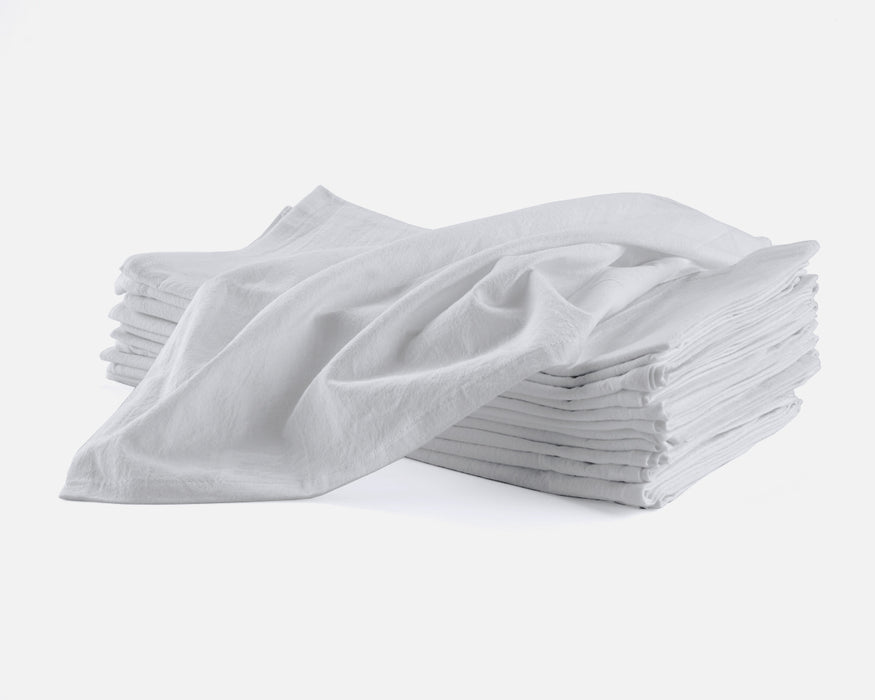 Heavyweight Flour Sack Towels, 27 x 27 Inches, Set of 12, 100% Premium Cotton, Highly Absorbent, Multi-Purpose Kitchen Dish Towels, Perfect for Printing & Embroidery
The primary qualities of each of our flour sack towels are:

★ Comes in 8 colors: White bleached flour sack towels, natural unbleached flour sack towels, red, black, royal blue, gray, rose taupe and plaza taupe
★ A uniform 27" x 27" square, 130 thread count, 3 oz each heavyweight old fashioned flour sack dish towels and hemmed on all sides
★ Expertly crafted hems give each towel a tidy, unmistakable quality and durability
★ 100% premium cotton fabric
★ A corner loop for convenient storage or hang drying
★ Best absorbency properties
★ Perfect tea towel blank for embroidery, screen printing, and vinyl
★ Breathable, making it ideal for baking yeast rising recipes
★ Sanitary for kitchen cleaning or drying
★ Structural integrity maintained if used as an embroidery foundation
★ Pre-washed to avoid shrinking (pre-wash before use to maximize each old-fashioned flour sack kitchen towels absorbency)
★ Washer and dryer safe 
★ All the towels are made in India. 
If you're planning to buy more than 120 pcs, please click here to go to the wholesale page and save more. 
As a nod to farmhouse sustainable, economical products, these bleached and unbleached flour sack towels are the perfect addition to any home. Durable, heavyweight and versatile by nature, these items can handle an entire spectrum of tasks that will have you reaching for them again and again. With their utility inherent nature and their cost-effective purchase options, there are no negatives about these products.
A flour sack dish towels bulk purchase is perhaps the best way to get a bang out of your buck. Not only does this greatly decrease the overall cost, but it will allow to you designate a number of towels to the many options they have available to them. They can be used to dry cleaned food, wipe up messes, cover rising bread, polish brass, stain wood projects, create the backdrop for embroidery, dry dishes, or even just be used to dry hands. The functionality of old-fashioned flour sack kitchen towels is the chief reason to invest in a set.
Every towel is also 100% cotton and both sterilized and bleached (white color), making them perfectly safe for use with food products. Our flour sack dish towels are also uniformly hemmed which give them a clean look without sacrificing any structural integrity. They are durable without being bulky. By design, they are lint repellent and perfectly sound to run through a washer and dryer.
Purchasers also have the option to invest in personalized cotton flour sack towels. If you aren't the crafting type, this is a great option to give the towels a unique flare that will make them singular to you. This also makes them a great gift option. By getting a set of embroidered cotton flour sack towels, you can let someone know that you know the quirks of their personality enough to individualize a gift for them.
Whether you want a wholesale white flour sack dish towels bulk order or you want to buy a few for immediate use, these towels are the perfect addition to any household. Don't hesitate to see why their durable, usable, and clean qualities make them a staple for millions.