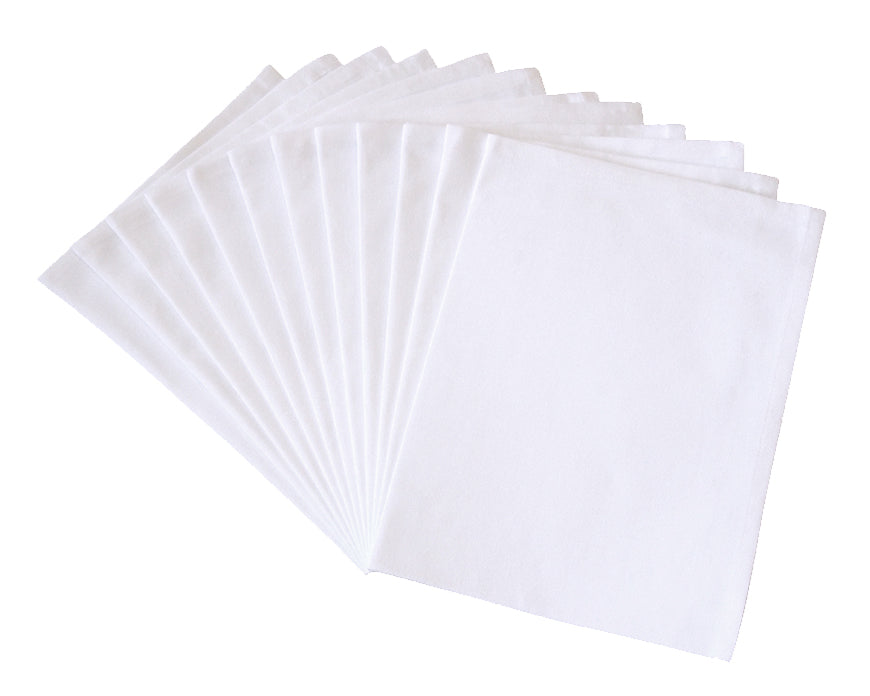 Flour Sack Napkins, Cloth Napkins, 19"x19", 100% Cotton, Set of 12
100% Cotton, comes in as set of 12 in white color

A uniform 19" x 19" square, 130 thread count, flour sack napkins

 hemmed on all sides

Machine Washable, Tumble dry low
Adding to our line of flour sack towels, we offer you 19-inch square, 100 percent cotton, bleached, white napkins. This flour sack napkin gives you all the same appealing attributes of this time-honored 130-count cotton in a convenient size suitable for countless uses including providing an elegant dining experience for your guests.

Available in sets of one dozen 19 x 19-inch napkins, you have an opportunity to stock up in volume for the many household, workshop or commercial uses that makes them super handy. By replacing your paper towel usage with reusable sturdy cotton, you make an impact by joining the sustainable class and reducing that carbon footprint.

If you are unsure of that impact, take a moment to collect the paper towel discard for only one month. Such an exercise can change your thinking when you realize just how much you are adding to the landfill and how much more disposable income you realize.

Flour Sack Napkins Become Indispensable
If you are to use cotton napkins as part of your daily chores, you quickly come to rely on them. The most expensive and highly prized paper products are purposely made to be in league with cotton because the manufacturers understand that thick, absorbent quality is preferred. The difference, though, is when you have cotton napkins as the go-to towels, you do not want to settle for less.

This is no more significant material for the care and treatment of your glassware or precious surfaces that you want clean and shiny without remnant lint or dust than our flour sack napkins. All the flour sack materials available from Mary's Kitchen Towels are lint-free due to the high thread count. The strong weave is what keeps our flour sack towels and napkins soft, or as we prefer to say, plush. This is the same impression your guests have when you provide them as part of your table set.

Use these quality cotton napkins in all aspects of your daily life on or off the job, in both residential and professional environments or for basic cooking and cleaning at home. A helpful hint: You never have to have wilted lettuce again when you store your greens wrapped in the soft absorbent flour sack napkin before storing them in the cooler.

Think of Flour Sack Napkins as a Blank Canvas
The inventive and creative crafter is always seeking those materials that provide yet another blank slate upon which to imagine, design and create. From needlework to painting to printing and even sewing projects, Mary's Kitchen Flour Sack Napkins provides quality material to exploit your creative genius.

If you are in need of help in getting a theme, concept or branding logo printed, consult with our custom DTG tea towel printing services page where we can help you. We have tons of ideas to contribute to whatever avenue of producing designer napkins you want to pursue.

If you have questions or want to learn more about what Mary's Kitchen Towels has to offer, simply contact us so our team can provide you with excellent customer service. We are part of your team when it comes to all things flour sacks. It is our intention to keep you coming back for more.