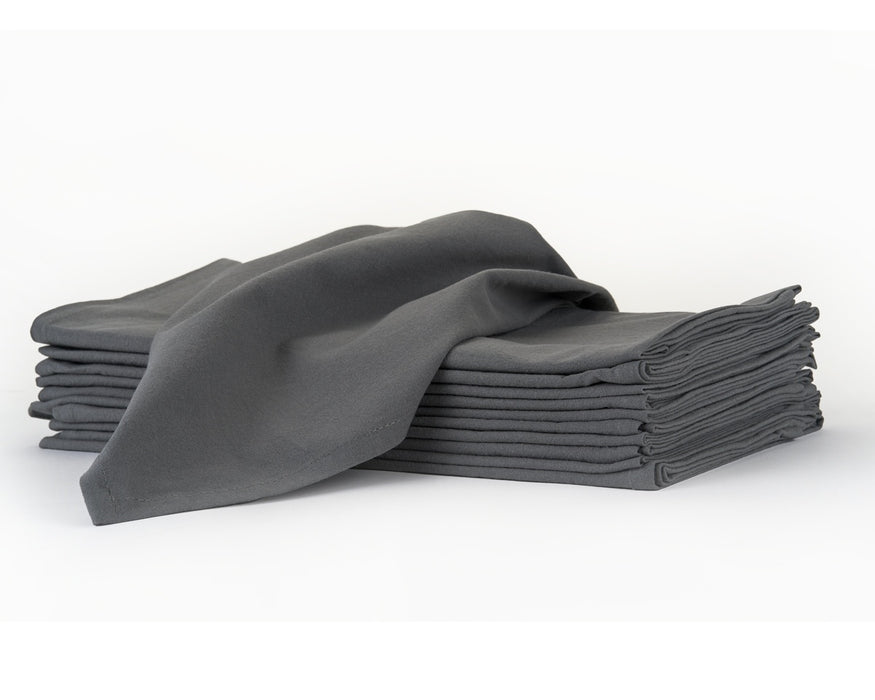 Gray Flour Sack Towels, Grey Tea Towels, Set of 12
100% Cotton, comes in a set of 12 in gray color

A uniform 27" x 27" square, 130 thread count, 3 oz each heavyweight flour sack dish towels

 and hemmed on all sides

A corner loop for convenient storage or hang drying

Machine Washable, Tumble dry low
When it comes to neutral complementary color, gray is an excellent choice. In answering the call for more options in color choices from Mary's Kitchen, we settled on this lovely Gray Flour Sack Towel. As with other color offerings, these gray tea towels may even make it to the table as a napkin for diners. The kitchen worker does not need to restrict their tea towel use to the standard white towel, however, the colors are most often reserved for special occasions. 

If you already have a selection of white, natural or both, folded and stacked towels that alternate between white and gray or natural and gray make a very appealing look. These, however, are not to be the "don't-touch towels." These towels beckon the user because of how amazing they are. Soft yet durable, breathable yet highly absorbent, the flour sack towel is a kitchen staple, whether in the domestic setting or in a bustling commercial kitchen. 

Their utility expands far beyond the kitchen, as most flour sack fans will attest. The gray dish towel is a useful complement when needing a color tone that does not establish a different scheme. It can still be used for cleaning, drying, washing, straining, poaching, proofing, canning, cheese making and more. These are 27 x 27-inch, 130-thread count, heavyweight 100 percent cotton towels ready to stand up to the punishment. Easy to keep like new, just toss them into the washer and tumble dry. 

There is a feeling of wealth and proper comfort when your rolls or bread reach the table wrapped in a flour sack towel to keep warm. When you match your color scheme with a gray flour sack, you take things up a notch or two. If you are crafty, you more than likely feel compelled to use some of your gray flour sack dish towels in some fancy needle crafts or embroidery. You can also ask us to machine or hand embroider your set of towels. Another option is to have them HTV (vinyl) or silk screened. The plain gray canvas is an inviting surface upon which to create some artistic designs. 

Try a set of 12 from our retail order page or if you prefer to order more, consider our wholesale page where you can save by ordering in bulk as well as saving on free shipping. We supply to individuals and to commercial interests as our products are highly prized among those who have come to appreciate the unique quality of the flour sack towel.