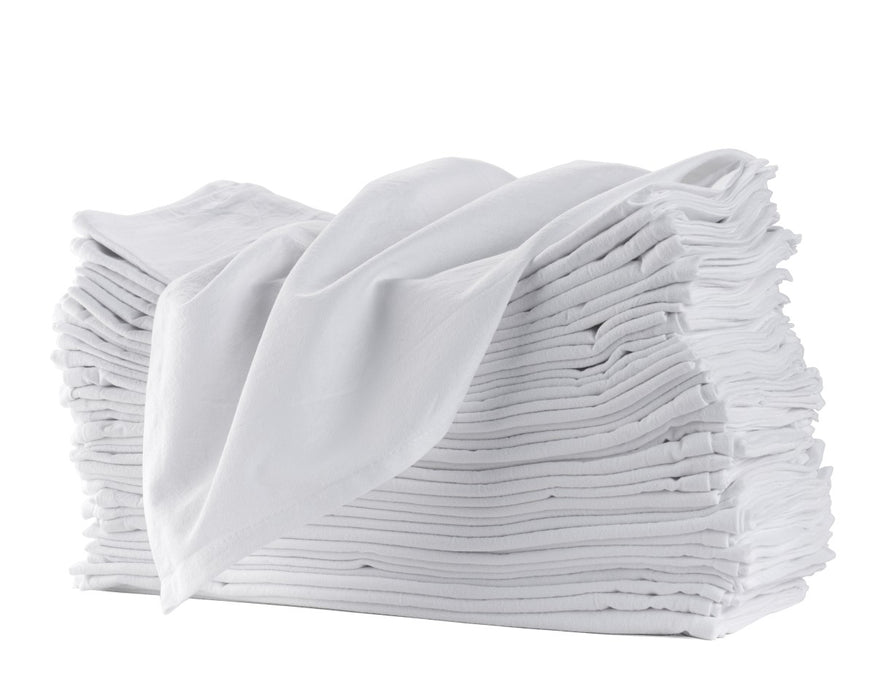 Wholesale Tea Towels Bulk, Buy Blank Flour Sack Towels 27"x 27"
If you need red, gray, blue or black color please click here. 

★ Multipurpose, available white or natural colors (unbleached), matching, wholesale flour sack towels measuring 27" x 27", and available for our wholesale customers. Simply, when you buy bulk you can save more and can take the advantage of free shipping. Perfect for both home and business, these bulk tea towels can ensure easy cleaning, dusting, wiping, and more. With plenty of surface area and quality material, you can rest assured that messes will be an easy cleanup, your dishes won't get scratched from drying, and your towels are going to last. These can be used to cover your rising dough, for napkins on a picnic, to wipe up a spill, as a simple decoration, and a lot more.
★ Made of 100% cotton that's woven in the traditional diagonal pattern - This guarantees a strong, durable material that's built to last and maintain its maximum absorbency. When kept properly, these flour sack towels can last years before needing replacement and can soak up messes as easily as paper towels.
★ Eco-friendly and cost-efficient - Save the Earth, and toss out those store-bought paper towels. The average household uses about 2 rolls of paper towel in a week, which can cost you around $200 dollars a year. You would be saving that extra money and more by eliminating the extra waste produced by throwing the paper towels away. Help stay green by introducing these blank flour sack towels into your home or business.
★ Easily Customized - Adding a personal touch to these tea towels is easy, and can be done multiple ways silk screen printing, direct to garment printing, machine, and hand embroidering. Personalize these towels with logos, names, days of the week, pictures, recipes and much more! Give your kitchen a pop of color or give them as gifts. The possibilities are endless, and you can make them stand out anywhere.
★ Machine Washable - After cooking a family meal or dusting the lampshades, your towels are destined to get dirty; it's their job! But nevermind the mess, because you can throw them in the washer with your clothes. The durable fabric and 100% cotton helps to resist shrinking and produces no lint. It's easy to add these to your normal wash routines whether that's hand washing, or tumbling in with the rest of your clothes.